I was reading a little article today on the 20th September 1997. Tony Liberatore's premature celebration followed by a Darren Jarman master class.
It was also my 17th birthday and it prompted me to think that I would probably still class it as the best in my life so far (for obvious reasons).
Thought I'd throw it out to the masses. Have you had any cracker birthdays? What was your best? From your childhood, as a teenager or an adult?
Fire away (keep it clean too....
)

Gingernuts




Join date

: 2012-02-01


Posts

: 2493


Teams

: Adelaide, Sth Adelaide, Langhorne Creek


My club

:


Still remember the morning of my 13th birthday, my mum asked me to go out to the front door and get the milk, ( the old days when we had milkies deliver ) and found a bike similar to the pic below waiting for me. Mine was gold in color.
Thought no one could top that for a present.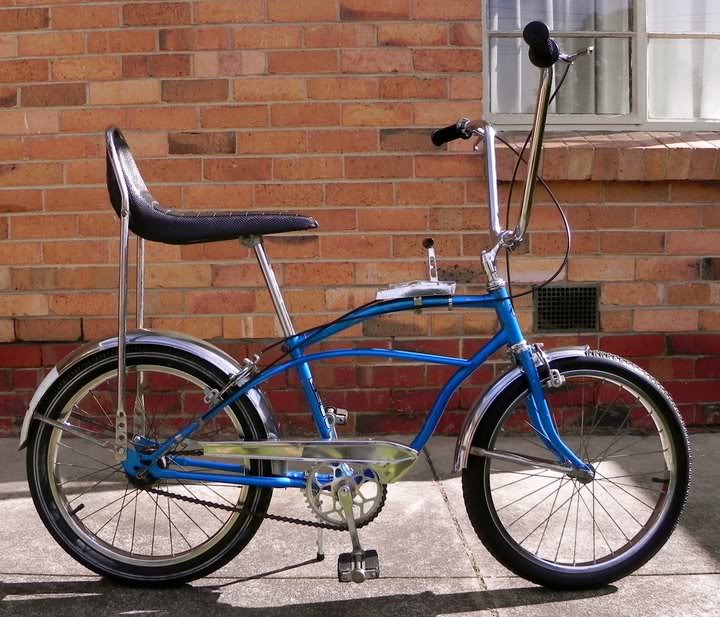 Unfortunately my pride and joy was stolen a few months later at school. Terrible feeling when you go to the bike rack to go home and all you find is a open combination lock lying on the ground where your bike used to be. Had a long walk home that night.
Ah yes, the old "Dragster". I had one too FB, just like this one. Mine was red.
The 13 year old chicks loved them. Almost like being a 13 yr old Hell's Angel.

3 years later they were bloody useless.

The chicks grew up.

Your mates wanted to go places fast........looking for the 16 year old girls.
And a dragster was as slow as a wet week at that stage. Couldn't keep up.

Maybe the thief did you a favour ultimately FB?

Chambo Off To Work We Go




Join date

: 2012-02-03


Posts

: 3061


My club

:


every birthday you have is a good thing because you know your still going
this years birthday back in May was my most memorable by far, a friend of mine had me totally surprised & humbled, when she lobbed at the trots & said ''i've book us upstairs for the smorgasboard for your birthday'' she also had all the trappings with the birthday balloon, badges & so forth....................the ''after party was memorable as well''

bayman




Join date

: 2012-02-05


Posts

: 7466


Location

: on a marx brothers set


Teams

: plympton, glenelg, redbacks & whoever the money is on


My club

:


I've only had one birthday out of the country, my 30th.

I'd been hitchhiking from Holland, Denmark, Norway and Sweden and Germany and took a train to Berlin. It was before the wall came down and the train was checked thoroughly by the East German guards when we crossed the border.

We lobbed in Berlin, went through 'Checkpoint Charlie' then Jenny said we'd go out for dinner.

This was luxury, as we'd been living on a few dollars a day and sleeping in a small tent on the ground for a month or two.

We went to the Restaurant Dubrovnik, definitely cheap, but the first meal we hadn't cooked on our little gas stove for that time.

Can't remember much about the meal except my ordering in German meant we got something other than what I thought I ordered.

Lots of adventures after that and the travel bug has just got stronger since that trip.

Lee




Join date

: 2011-12-05


Posts

: 7286


Location

: Talking footy


My club

:


---
Permissions in this forum:
You
cannot
reply to topics in this forum